The uncut, original-length "Warning" has been found!
Sabbath maniacs, another Holy Grail has been found!
In several ways, this discovery is even better than the Dumfries '69 show in that we now have a clean live recording of the original, uncut 32-minute version of "Warning" and the only live recording of "Sleeping Village" (which has an extra stanza!)
You can download the MP3 here, and the FLAC version here, though the latter might have been sourced from the lossy Youtube version.
Several things to talk about here. Those of you who picked up my first book know that I've been saying for years that the elegiac instrumental that Iommi played live with "Orchid" through most of the '70s came not from a cut version of "Orchid," but from the cut version of "Warning." At long last, we have the evidence! (In fact, several portions of Iommi's jam come from "Warning.")
Yet, despite it being Iommi's most haunting track, it's never seen an official release (studio or live) to date (though I'm hoping that will be rectified).
On the subject of "Sleeping Village," the added stanza is worth noting. Some of you might recall that I consider the entire suite as one thematic piece, and likened the Dunbar lyric of "Warning" to Ovid's version of the giant Polyphemus (in Metamorphoses), who'd become obsessed with Galatea, who was in love with the shepherd Acis, driving Polyphemus into a murderous rage. Well, with that in mind, check out the second stanza of "Sleeping Village" that Osbourne sings here:
"Giant's crying in its bed,
For it's needed to be fed,
No one comes to this child,
So it lies there till it sleeps..."
If taken chronologically, this serves as a kind of prequel to what erupts in "Warning," providing us a picture of Polyphemus as a tragic figure of misanthropy. It also harmonizes with "Wicked World"'s depiction of a "child sitting, crying, finding live much harder; he doesn't even know who is his father."
This brings to mind issues of early childhood abandonment. The giant child is missing its mother; the human child its father. Satan serves as a false caregiver in "Black Sabbath," while the Wizard serves as a fanciful one from myth and legend. We also have false-doomed lovers in "N.I.B." (Satan again) and "Evil Woman." Finally, in "Behind the Wall of Sleep," the protagonist very nearly loses himself!
No wonder than that the debut album feels so forlorn and dark! It's setting--in the distant, legendary past in which giants, wizards, covens, living nightmares, and dark lords--adds to its sense of ancient mythic terror returning--spiritually and psychologically--to haunt us in the present...
Errata for Vol 1
The Rebel: I've just learned (Feb '18) that Norman Haines did not write "The Rebel" after all. According to Jim Simpson, and listed in the credits for the Mott the Hoople cover of the song (on the Two Miles from Heaven album), the composers are Cyril and Dora Ward (Charles Ward). If the Mott the Hoople version is to be credited, the original title is the rather unwieldy, "If Your Heart Lay with the Rebel (Would You Cheer the Underdog)?" I'm not certain who Cyril and Dora are, but Charles Ward was a musician, engineer and producer, who with his brother Kingsley, founded the renowned Rockfield Studios in 1963, where Sabbath did pre-production on the Paranoid album and became friends with Charles and Kingsley. It seems like that Cyril and Dora might have been sisters, girlfriends or wives to Charles and Kingsley.
Evenin': One major mistake I found in the current first edition of Black Sabbath: The Illustrated Lyrics Vol 1 occurs in the credits of the song "Evenin'," which I appear to have erroneously attributed to Charles Daniels and Richard Whiting (who redid an upbeat jazzy version with the same lyrics). The song was originally composed by Mitchell Parish and Harry A. White, and the first recorded version was Cal Calloway and His Cotton Club Orchestra's in 1933, which is moody and unlike the Jimmy Rushing version. Another great version was done by Julie London in 1961.
Changes to the Revised Edition (2nd printing): Apart from typos and the changes to reflect updated information on the song "Evenin'" (see above), there are additional textual changes, mostly in the areas of grammar, sentence structure and to remove redundant statements. It is with no small annoyance that I do this, as I (and two others) proofread the book meticulously several times. I can state with sincerity, since I'm an editor myself, that this does happen frequently. That said, it's never a pleasant thing to find your work has typos and things that should've been caught the first 20 times you read the manuscript. My apologies to those who've been distracted/annoyed by them. I also updated the titles of the upcoming books, as I've finally settled on titles for each. I'll post a list here and on Facebook in the coming days.
When going through the book again, I decided to take advantage of the opportunity to make some changes to the images that I wasn't 100% happy with when I had time to peruse the final copy. Most of this is subjective, but here is a list of those updates and changes (this does not include things like changing background page colors or resizing images):
Page 38: Replaced band image with one I liked better.
Page 56: Replaced Jimmy Rushing's picture with Cab Calloway, who was the first artist to perform "Evening," not Rushing (though another Jimmy Rushing image is still in the book several pages earlier).
Page 57: I moved the newspaper cutting of Black Sabbath and Jim Simpson to the next page and added a new image of Jim Simpson sitting at the front row of a Louis Armstrong concert. Louis is standing right next to him singing. I wish I had come across this image earlier, as it's a perfect representation of "Song for Jim," but at least it's there now. If anyone requests, I'll post it on here.
Page 60: Replaced Norman Baines with a better image of him with the band Locomotive.
Page 63: Replaced the left-most image of the protest with a new one that's much closer and shows what's going on better. I replaced the bottom image of the band with one I like better.
Page 75: Replaced the painting of Hieronymous Bosch with another Bosch painting that I think works better.
Page 183: Added a new picture of Phil Ochs live next to the lyrics of his song "Spaceman."
Page 203: Added a new small illustration of a demon/angel by Randall Stultzfus.
Page 216/7 Added new images of a creepy lady and creepy man.
---
What if Black Sabbath and Ozzy Hadn't Split in 1979?
<![if !vml]>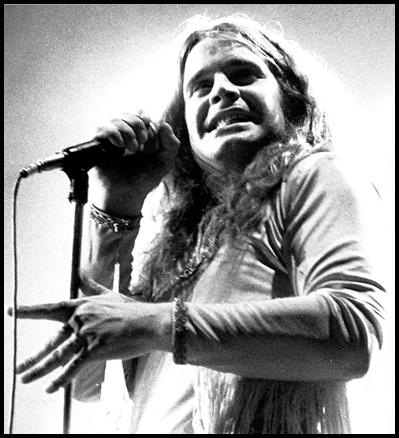 <![endif]>
By Joe Bongiorno
By now every Black Sabbath and Ozzy fan knows the popular story of drugs and dissolution that led to the firing of Ozzy Osbourne from Black Sabbath in 1979, what some fans still call the breakup of Black Sabbath, and what others see as the rebirth of the band with Ronnie James Dio. While my upcoming book Black Sabbath: The Complete Illustrated Lyrics: 1969-1979 goes into greater detail as to the numerous forces that drove the final stake into the heart of the original Black Sabbath, this essay touches on what it would have been like if the original band had been able to resolve their differences. What if Osbourne, Iommi, Butler and Ward had been able to work out their individual and collective issues and carried on? Or, if that seems too implausible, what if the original band had reunited early on, such as in 1983 when Iommi and Osbourne first entertained the notion of reuniting when they found themselves each without a singer and guitarist respectively?<![if !supportFootnotes]>[1]<![endif]> Does the release of 13 provide any clues as to what they might have sounded like in their prime? As I suspect I'm not alone in pondering this impossibly unanswerable 'what if?' feel free to chime in with your own thoughts and speculations.
Several fans have attempted to gather clues from the Dio-fronted Heaven and Hell album, as that was the name of the album they were working on when Osbourne and company parted ways those near 35 years ago, and "Children of the Sea" was one of the songs they had been working on while Osbourne was still around.<![if !supportFootnotes]>[2]<![endif]> Yet, Heaven and Hell is foundationally different than anything Black Sabbath had done before, and that comes with the recognition that Sabbath were considerably progressive from their self-titled album to Never Say Die. Heaven and Hell is a sea-change difference, an album that is upbeat, mainly straightforward and bright.<![if !supportFootnotes]>[3]<![endif]> The reason for the change is that most of the songs were composed from scratch following the departure of not only Osbourne, but bassist and lyricist Geezer Butler, who left the band to sort out his head and marriage.<![if !supportFootnotes]>[4]<![endif]> The band then became comprised of Tony Iommi, Bill Ward, their newly hired vocalist and songwriter Ronnie James Dio (formerly of Rainbow and Elf), as well as bassist Craig Gruber (also of Rainbow and Elf) and keyboardist/songwriter Geoff Nicholls (formerly of Quartz). Each of these men brought in their own material, with the latter writing all the bass-lines, including the basic riff to "Heaven and Hell" (which is a direct carry-over from the Quartz song "Mainline Riders").<![if !supportFootnotes]>[5]<![endif]> Although short-lived in the band, Gruber brought in all but the middle-eight section of "Die Young," which he was paid for prior to his departure upon Butler's return.<![if !supportFootnotes]>[6]<![endif]> Dio, Iommi, Nicholls and Ward composed everything else, except "Neon Knights," which was written after Butler returned to the band. According to Ward, there wasn't creative space for he or Butler to contribute any longer, as Dio was a multi-instrumentalist and lyricist: "There was no room for Geezer. There was no room for Geezer's lyrics. There was no room for me to turn around to Tony and say, 'What we gonna do here, Ton?' Things like that… Even Tony was losing himself, somewhat."<![if !supportFootnotes]>[7]<![endif]> Dio's influence is all over the album, and although a good songwriter, and one who used to sing "War Pigs" in his own band, he wasn't a Black Sabbath fan per se: "I knew the singles," Dio acknowledged, "but I hadn't rushed out and bought the albums and listened to Sabbath. It was a bit foreign at the time to me."<![if !supportFootnotes]>[8]<![endif]> What you have then are four primary contributors to the album, Dio, Gruber, Nicholls and Iommi, only one of whom is original to Black Sabbath. The rest came from different musical traditions and styles. So, aside from "Children of the Sea," which had a very different vocal melody when Osbourne sang it, one can't look to the Heaven and Hell album for clues as to what the next original Black Sabbath album would've sounded like had Osbourne not been fired. According to Iommi, "It was written as it was for those members. None of those songs would have worked with Ozzy."<![if !supportFootnotes]>[9]<![endif]>
What about its follow-up, then? Mob Rules is an underrated album that critics compared unfavorably to Heaven and Hell, likely due to the album's sequencing which mirrors the former, yet it's its own beast, and in several ways a greater album. According to Nicholls, tensions were surfacing during its making as Dio had asserted greater control, edging out any influence from Nicholls or new drummer Vinny Appice. Yet, the darker sound of Black Sabbath was becoming more prominent again, and Butler's presence throughout the writing and rehearsal process shows. Songs like "Voodoo," "Country Girl," "Sign of the Southern Cross" and "Falling off the Edge of the World" are highlights on the Mob Rules (and quite different from anything on Heaven and Hell.) While the latter two are excellent epics, they're perfectly suited to Dio's soaring, roaring voice. The former two, however, easily fit into the '70s era Sabbath sound, and would have well-suited Osbourne's singing style and vocal melodies. In fact, the song "Loner" from the 13 album bears a strikingly similar riff to "Voodoo." More on that below.
If not to the Dio-fronted efforts, some fans look back to the original band's final album Never Say Die when speculating what their next album might have resembled. While detractors claim that it represents a band that's lost its way, fans of the album revel in its haunting, jazzy/bluesy, melancholy weirdness. Never Say Die is certainly a more progressive, experimental and offbeat album, and not a few see it as the apogee of where Black Sabbath were heading since their self-titled debut. The album is chock-full of great songs like "A Hard Road," "Johnny Blade," "Junior's Eyes," "Air Dance" and "Shock Wave," for starters. That it wasn't a happy time for the band, or that the album didn't chart as highly as Paranoid in the States (although it did quite well in Europe) bears little reflection on whether or not they would have followed through on some of the more proggy, avant-garde elements found here. With the coming decade, and the advent of punk and disco, the trend in music was moving towards a simpler sound, even a simplistic one. There's little doubt that the original lineup would've followed that path, but by the same token, no two Black Sabbath albums sound alike. So, there's no reason to expect that the next album would have been Never Say Die 2. That said, I think it's fair to say that some of the more virtuosic elements would have continued forward. Even on the straightforward Heaven and Hell, Iommi allows himself some exquisitely prodigious soloing in "Lonely is the Word."
Some look to Osbourne's early solo efforts for musically consonant elements that might indicate what the next Black Sabbath might have featured, but as with Heaven and Hell, Blizzard of Ozz and Diary of a Madman are a sea-change difference in approach and direction from Black Sabbath. And again, there's only one former member of the band contributing to the mix.
Randy Rhoades and Tony Iommi are both phenomenal players, but very different in the way they play and compose music. Rhoades comes from a primarily Classical tradition, Iommi from a primarily blues and jazz tradition. Like the influences on Heaven and Hell, The Blizzard of Ozz band's influences were also untouched by Sabbath. Daisley hadn't listened to Black Sabbath and Rhoades disliked their early albums. Blizzard of Ozz, also like Heaven and Hell, is a much more commercial offering, with little to none of the twisty, dark or melancholy pieces that made up Sabbath's output circa 70-78. But as with the two post-Ozzy albums, one can find similarities. There is the brief "Dee," (echoing Iommi's short instrumentals on Master of Reality), the moody "Mr. Crowley," the balladic "Goodbye to Romance" and plaintive "Revelation (Mother Earth)." The carry-through comes primarily through Osbourne's unique voice and exceedingly well-crafted vocal melodies. This can be heard on "Over the Mountain," "Tonight," and "Diary of a Madman," where one finds the kinds of songs that could've appeared on anything from Sabbath Bloody Sabbath onwards.
Moving back to Iommi's camp and forward in time to 1983 is the Ian Gillan-led Born Again, an underrated album marred by a bad mix, but one in which Ward returns, and he, Iommi and Butler are in a stronger position to bring out their own sensibilities and riffs. According to Ian Gillan, those riffs actually went back a few years: "It just so happens that Tony and Terry had quite a bit of material they had written that they hadn't used because it didn't work with Ronnie's operatic singing style. They've dug up some of those tunes and we're working on them."<![if !supportFootnotes]>[10]<![endif]> In that same interview, Gillan reveals that his singing style is far more akin to Osbourne's than Dio's. So it may be to this album, and in particular songs like "Trashed," the Butler-constructed "Zero the Hero," "Disturbing the Priest," "Born Again" and "Keep it Warm" (written during the Mob Rules sessions) that one finds some possible ideas that might have appeared on a ninth original Black Sabbath album.
Moving to the present day to take a look at the 13 album, which is a tricky thing as it's been thirty-five years, and it's apparent that some songs are very modern, one can still gain some possible insight from some of the songs that hearken back to the classic 70s-era Sabbath sound, not so much the ones that consciously do so ("Zeitgeist," "God is Dead?" and beginning of "End of the Beginning"), but rather those that more organically feel like classic Sabbath. For example, in the jam-based "Damaged Soul," Osbourne, Butler and Iommi return to the heavy blues sound that contributed to the self-titled album and songs like "Warning." Though he doesn't appear on the album, Ward had spent a year writing and rehearsing material for 13, and his influence is present. As early as 1972, during rehearsals for Vol. 4, Ward wanted the band to revisit their early blues sound. At the time, Iommi was looking forward, not back, and the blues wasn't currently in vogue. Iommi wouldn't revisit the blues until 1978's "Swinging the Chain," from Never Say Die, then two years later on Heaven and Hell's "Lonely is the Word" and later again for Born Again's "Keep it Warm" (written in 1981), so it's likely that a blues-based song like "Damaged Soul" would have appeared on an early Ozzy-led Sabbath album. Another is "Loner," which, as mentioned above, bears a striking resemblance to "Voodoo" (and some have noted elements of "N.I.B." in its blood), and hints that such a song would've found its way onto an early ninth original lineup studio album. "Age of Reason" is another song that's classic Sabbath, in that it's heavy but progressive, and with a lyric that hearkens to the band's predominant and expanding theme of elitist oppression in a fractured world.
In the final analysis, it's really anybody's guess what a ninth studio Black Sabbath album would have sounded like, and it's doubtful that even the original members could tell us. My best estimation is that it would have retained some of the aspects of Never Say Die, in particular its heavy blues-elements ala "Lonely is the Word" and "Damaged Soul," and virtuosic playing from Iommi, ala "Over and Over," but dropped some of the more overtly avant-garde numbers like "Breakout" and "Air Dance." There would've likely been a fast, heavy number to open the album, along the lines of "Over the Mountain," "Trashed" (or the riff to "The Fallen"), but also more mid-tempo rockers like "Voodoo"/"Loner," "Wishing Well" and "Country Girl." I'd also expect at least one slow, ballady song similar to a track like "Goodbye to Romance" or "Tonight," or even something like "You're No Different" (from the Bark at the Moon album), and since the band had been experimenting with dual and multi-vocal parts, it's possible that Bill Ward would have sung some kind of back-up for Osbourne. Since Iommi wasn't into obvious repeats of himself at that time, there wouldn't have been anything along the lines of "God is Dead?" or "Zeitgeist" or even "End of the Beginning," but something near to the Vol. 4-esqu riff of "Live Forever" is possible for a deep cut, but maybe not at this time. I also wouldn't expect anything like "Walk Away" (which is really more of a Rainbow/Elf kind of song) or the Zepplinesque "Slipping Away," nor for that matter the Purplish "Digital Bitch" or "Hot Line," or really any of the Randy-inspired upbeat songs like "Crazy Train" or "Suicide Solution" or "No Bone Movies."
Had the original Sabbath lineup stayed together, Don Airey would likely have remained their keyboardist, so no "Heaven and Hell" and none of the songs that required an operatic voice like "Sign of the Southern Cross." However, a deep-cut would likely have been a lengthier, proggier number akin to "Age of Reason," "Born Again" or "Diary of a Madman." Likely too there would be something short and offbeat, like "E5150" or "Stonehenge," since the band might have wanted to return to the darker sound that first made them popular (and since horror movies had become popular again).
I feel certain that had they not split up, or had they reformed any time from '83 to '85, the album would've been another masterpiece. Of course, had the former happened, the world would have lost Blizzard of Ozz and Diary of a Madman, as well as Heaven and Hell and Mob Rules. Then again, Randy would probably have found success in Quiet Riot, and maybe with some of the same songs, while Dio's rise to fame would've come in the solo career he eventually embraced. In the scenario that the band reunited in '83, we'd have lost Bark at the Moon and Born Again. Or, in '84, The Ultimate Sin and Seventh Star albums, less palpable losses, but at this point and forward, the album would've been a victim of a music industry that had taken a steep downward spiral, with the trend towards overproduction that would have ruined any attempt at a decent sound for Sabbath.
There is no time-machine to take us back and see what might have been. The album 13 is beloved by many, but it's left some wondering what might have been had the band been able to reunite years earlier while they were still in their creative peak years. We'll never know, but perhaps the above offers us some additional food for thought, and a tiny hint of what might have been.
<![if !supportFootnotes]>
---
<![endif]>