PRESS RELEASE: The Royal Publisher of Oz Releases Black Sabbath: The Illustrated Lyrics Vol 1; Now Available for Order
The Royal Publisher of Oz has announced the availability of its new publication,
Black Sabbath: The Illustrated Lyrics Vol 1: Supernatural Horror in Literature
. The book is available on
Amazon.com
and via special-order in retail stores, as well as via wholesale.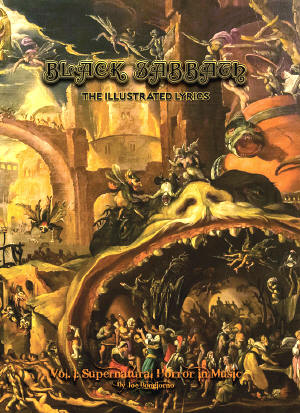 Black Sabbath is one of the most successful and beloved rock bands of all time, having sold over 75 million albums worldwide, and notable for not only spawning several rock subgenres, including heavy metal, stoner and doom, but for delving into dark subject matter, stinging social criticism and apocalyptic warnings of the future. In their 2006 induction in the Rock & Roll Hall of Fame, Black Sabbath was noted for having "pursued such themes as war, social chaos, the supernatural, the afterlife, and the timeless conflict between good and evil." The intense musical synergy of Geezer Butler, Tony Iommi, Ozzy Osbourne and Bill Ward saw the creation of eight iconic albums that have stood the test of time, remaining as powerful, haunting and relevant now as they were when they were first released between 1970 and 1978. Black Sabbath: The Illustrated Lyrics Vol 1: Supernatural Horror in Literature provides an in-depth analysis of every song and theme found on their self-titled debut album, as well as the early "lost" songs they performed (and even recorded) from 1968-9, during the period when they went from Earth to Black Sabbath.

For decades, Black Sabbath's lyrics have been misheard, misunderstood and misinterpreted. The Rock and Roll Hall of Fame says "they remain one of the most misunderstood bands in rock history." Here, at last, is the definitive analysis of the band's soul-searing messages and themes! The first in a series of eight books, Black Sabbath: The Illustrated Lyrics, written by Joe Bongiorno, goes beneath the surface where few have gone before to uncover the truth behind the greatest musical force to ever storm the earth!
Vol 1: Supernatural Horror in Music contains:

• An in-depth analysis of every lyric from their debut album Black Sabbath, as well as seven "lost" songs from 1968-9.

• Over 170 powerful and haunting images from some of the greatest names in the world of art, from contemporary visionaries to arcane masters of old, as well as rarely seen photos of the band.

• Parts 1 and 2 of the essay exploring Black Sabbath's "Musical and Cultural Influences," as well as essays on the interpretive process and significance of lyrics.

• A revised libretto for every lyric that corrects the many mistakes that have crept in over the years.
• Edited by the creator of the "Philosophy and Popular Culture" series, William Irwin, who produced the book, Black Sabbath and Philosophy, and Rich Handley, creator of Hasslein Books, publisher of genre-based reference books.

At long last, the definitive examination of Black Sabbath's words and themes is here! Beautifully designed by Joe Bongiorno—and geared toward the serious Black Sabbath and heavy rock fan—Black Sabbath: The Illustrated Lyrics Vol 1 is your guide to the songs that made history and changed the music world forever.

For more information, check out Amazon.com or visit the Black Sabbath: Illustrated Lyrics web site (www.blacksabbathlyrics.net), Facebook page (www.facebook.com/blacksabbathillustrated). Or simply send an e-mail to joe@thewizardofoz.info.


ABOUT THE ROYAL PUBLISHER OF OZ
The Royal Publisher of Oz, founded in 2008 in Long Island, NY, began as a venue for publishing quality illustrated fantasy books written by serious fans for serious fans of L. Frank Baum's Oz series. It was expanded to include illustrated non-fiction books in 2015, when it began work on the first in the eight-part series, Black Sabbath: The Illustrated Lyrics: Prophets of Darkness and Light. Upcoming titles include Vol 2 of that series, Paranoid: Protest in Science-Fiction & Eschatology and Vol 3: Master of Reality: Sounds of the Apocalypse, also by Joe Bongiorno, with five additional volumes to follow. To keep up with latest news, visit www.blacksabbathlyrics.net.