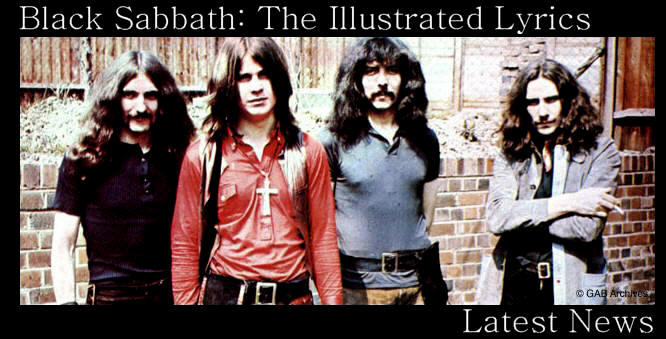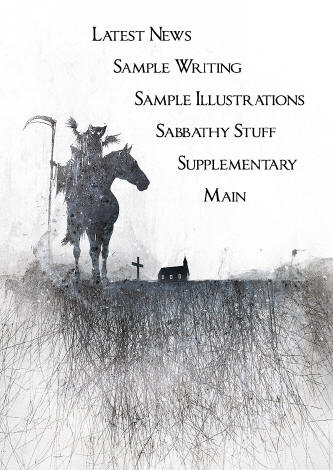 NEWS
December 25, 2022: Merry Christmas and Happy Holidays! This coming year, after overcoming health issues and ancient projects that took a long time to complete, I resume work on Black Sabbath: The Illustrated Lyrics Vol 3, which covers the iconic Master of Reality! Keep the Sabbath!
December 7, 2020: An uncut, 32-minute live version of "Warning" has been found along with the only live version of "Sleeping Village" (with added lyrics)! Check out my article about this, while listening and downloading the song here!
August 2, 2020: Just letting you all know I haven't vanished. I've had to finish up other writing projects, but am nearing the end of that. 2021 will see the long-awaited release of Vol 3. After that, I hope to get back to an annual schedule of releases per volume.
May 14, 2019: Welcoming onboard amazing illustrator Marc Fishman! Meanwhile, work on Vol 3 is beginning in June with the intent of seeing publication by year's end!
February 6, 2018: Some new material for the errata section. It turns out, according to Jim Simpson, that "The Rebel" was actually composed by Charles Ward (amongst others), co-founder of Rockfield Studios. For more info, go here. Jim also confirms there is an earlier version of the debut album (with the extended tracks) that has yet to see release, along with the four or five cover songs they recorded in Birmingham (as detailed in Vol 1). See here for the full Jim Simpson interview.
October 12, 2017: Copies of Black Sabbath: The Illustrated Lyrics Vol 1 and Vol 2 are now available on Ebay.com! Click the links to be redirected there.
July 5, 2017: Click here for the Press Release for Black Sabbath: The Illustrated Lyrics Vol 2: Songs of Protest & Apocalypse.
July 3, 2017: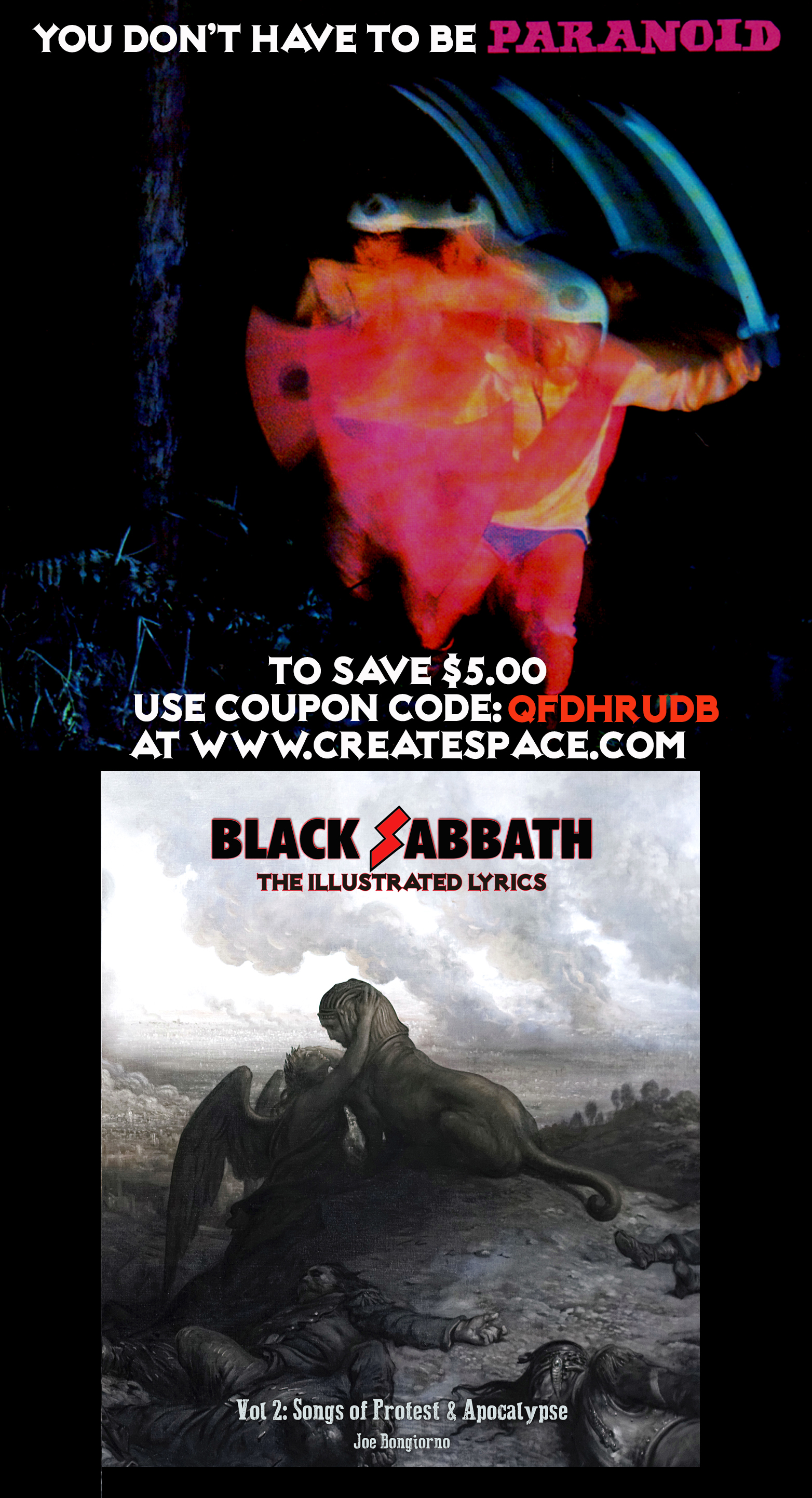 Available now! Black Sabbath: The Illustrated Lyrics Vol 2. Save $5.00 off Createspace.com with coupon code QFDHRDB!
June 6, 2017: Black Sabbath: The Illustrated Lyrics Vol 2 will be available in a few days. A $5.00 coupon will also be available. Stay tuned!
I'm also happy to welcome artist Toshio Ebine to the fold! Check out his site and amazing art!
May 5, 2017: New artists onboard: Jaroslaw Datta, Natalia Drepina, and Fernando Martin! Welcome all!
Vol 2 is nearing completion! I'll be ordering a final proof copy by tonight, and if all goes well, the book will be ready to ship by the following week! Stay tuned!
April 8, 2017: After some setbacks (e.g., illness, computer crash, etc.), Black Sabbath: The Illustrated Lyrics Vol 2 is back on track for what will now be a May release, which will amount to basically the 37th anniversary of the Paranoid album.
September 4, 2016: Here is a free sample chapter PDF of Black Sabbath: The Illustrated Lyrics Vol 1! https://onedrive.live.com/?authkey=%21AE92X8DBspNzjIQ&cid=047CE7244ECF5FB8&id=47CE7244ECF5FB8%21371&parId=root&o=OneUp
August 14, 2016: Work begins on the final draft of Vol 2 tomorrow!
May 5, 2016 Update: There will not be copies available for the next day or so, as the second revised edition of Black Sabbath: The Illustrated Lyrics Vol 1 is being printed. Apart from the information below, I've also seen fit to change up a few illustrations and add a few others. A complete list of changes can be found here.
May 4, 2016 Just wanting to let everyone know that there is a second printing being prepared that will correct some of the minor typos, as well as partly incorrect compositional information on the song "Evenin'" (see Supplements). To offset this for early buyers, you guys will be rewarded by having something potentially collectible, as the second printing will acknowledge that in the interior and the cover will sport a different typeface for the title.
May 3, 2016 New video exploring Black Sabbath: The Illustrated Lyrics Vol 1: Supernatural Horror in Literature:
April 12, 2016 Martin Popoff Review of Black Sabbath: The Illustrated Lyrics Vol 1
Check it out here!
February 27, 2016 Blue Coat Man (newly discovered version)
If you haven't heard it yet, head over to my Sabbathy Stuff page to listen to Black Sabbath's amazing cover of Blue Coat Man--not from Dumfries '69 (also on that page)--but from Switzerland in 1970! The band are so incredible on this song, it has to be heard to believed! Check it out here.
February 25, 2016 Signed Copies
Signed copies of Black Sabbath: The Illustrated Lyrics Vol 1 are now available with no additional charge at the retail price of $34.95 (with free shipping in the U.S.). Contact me here and I'll send out a Paypal invoice. International orders: contact me for shipping costs. Personalizations accepted.
Artists: Comp copies to all the artists who contributed to this volume will be on their way in the coming weeks!
February 24, 2016 Available Now and Press Release
Black Sabbath: The Illustrated Lyrics Vol 1: Supernatural Horror in Music is available now on Amazon.com! The official press release can be found here.
February 23, 2016: Cover and Release Date

Check out the cover of Black Sabbath: The Illustrated Lyrics: Vol. 1: Supernatural Horror in Music. Release date is this week!
Hard to believe that after many, many years of working on this project, Vol 1 is ready to go! I have to say, with admitted bias, that it's a gorgeous looking book, and I think some of will agree. I'm going to do a press release on Friday, but as a heads-up, it includes every song from the self-titled Black Sabbath album, as well as the "lost" songs, the usual suspects like "The Rebel" and "When I Came Down," along with some early covers that the band covered as Earth (and as Black Sabbath, as they were still playing these songs after they changed their name). There are over 170 illustrations and photographs in the book, and a big shout-out is due the amazing artists who were gracious enough to contribute images to this book! Your complimentary copies will soon be on their way!
January 18, 2016
Artists are streaming in! This time we have the amazing psychedelic art of John Hurford! Check out his site here!
January 15, 2016
We have a new artist onboard, Vergvoktre, whose brilliant dark art can be seen here! In the meantime, the layout is proceeding apace and the book is looking quite nice, if I do say so myself! By the end of the February, it should be out!
November 1st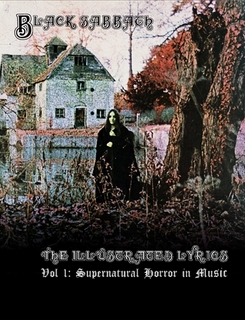 This is the temp cover of Black Sabbath: The Illustrated Lyrics: Vol. 1: Supernatural Horror in Music. It is NOT the final cover! I put it together to print out a copy of the final draft, which has at last been completed! With a print copy in hand, I'll be better able to catch all of the minor mistakes that my first twenty proofreads on the computer didn't!
Vol. 1 will come with a lengthy introduction, and in fact, each of the eight volumes will include in-depth introductory material, some of which will explore the band's influences, their critical demonization, their break-up, their early days, the lyrics' themes, etc. One volume will feature all of the extant bootlegs (what's on each and what the quality is), one will feature an extensive timeline, and there will be other matters of interest. My goal is to make these books the definitive word on Black Sabbath, specifically regarding their lyrics.
As to a deadline, my plan is to have this first book out by this February. I'm currently awaiting exclusive interview material from Black Sabbath manager Jim Simpson and keyboardist/songwriter Norman Haines, which should answer some long-standing questions about the Earth era of the band.
September 11th
In the wake of Black Sabbath's final tour, "The End," going on sale, the Holy Grail of live Black Sabbath recordings, the Dumfries '69 show, has been mysteriously released online! You can download the flac files from Guitars101. Go here for a link, full description of each song, and an MP3 Youtube version to hear them!
In book news, I'm closing in on the final draft of Book 1! And it will include lyrics and discussions of the songs played at the Dumfries show!
May 29th
Accountable Beasts, the new album from Bill Ward is out on CD! You won't yet find it on Amazon, but it's available from his new site here: http://www.astoncrossmusic.com/
May 1st
As promised, Bill Ward's Accountable Beasts album is available on iTunes. Those who do physical media, like myself, will have to wait a little longer. Will keep you posted, but definitely great news on the release of his new album (which I know some of you were skeptical about). Word on the street is that for those of you liked his first solo release Along the Way (and really, who didn't?), we're in for a treat.
April 24th
Bill Ward has announced the release of his third solo album Accountable Beasts, and there's a very good article on Rolling Stone in which Bill explains much about the recent exchange between himself and Ozzy and what his motivations were for speaking to the public. How things will shape up in the future remains to be seen, but it doesn't look good for a full reunion. It will be great to at least get a new album from Mr. Ward. And as sad as this is for many, particularly since what we're looking at is the dissolution of a long friendship, for fans it's important to remember that no matter what's going on, nothing will ever take the original eight Black Sabbath albums away.
March 28th
Welcome Ben Upham, an amazing rock photographer, who is contributing to the book several incredible and rarely seen images of Black Sabbath from 1977!
Also, as to the news of Black Sabbath breaking up after their final show in Japan (in November), please don't believe everything you read on the internet. The band has not individually, or collectively, posted any news of this kind. As far as we know, there is still another album and tour on the horizon (likely after the guys have gotten some well-deserved R&R), hopefully with Bill in tow.
January 7, 2015: Tomorrow's Dream
I begin the final draft of Black Sabbath: The Illustrated Lyrics tomorrow.