Archived News 2011
December 21, 2011: Happy Holidays!
Just a quick progress report. I'm pleased to say that I'm halfway through my fourth/fifth draft. My goal is to have the book out around the time of band's new album/tour (still hard to believe a new Black Sabbath album is coming!), which means about eight or so months from now. I'm taking a short break for the holidays, and will be back to work full-time on the book on January 1st. To that end, I've decided to discontinue the blog, as I find it takes away precious time I need elsewhere. Till my next update, everyone have a happy and safe holiday!
November 11, 2011: It's official!
By late spring or early Fall, God willing, Black Sabbath will have a new album out (produced by Rick Rubin) and begin a worldwide tour (starting in the U.S.). If you listen to the press conference, you'll note that Ozzy says that eight or so songs have been written (though nothing yet recorded). Rubin says they're halfway into the writing process. It's great to hear Ozzy rave about the new material, something he doesn't often do. Even Geezer raved, saying, "Tony's come up with absolutely incredible music... It really is back to the old Sabbath style and sound. We tried to do that before, but it just didn't seem to work, wasn't up to our standards. This time, the stuff that Tony's been playing is just absolutely brilliant! Great to be a part of it! We're all excited again, and we know this time it's going to happen."
A lot of us had a feeling this reunion was going to happen, despite some of the setbacks and seeming disappointments along the way. As Henry Rollins stated, "There's one thing about Black Sabbath which should not be understated. If Black Sabbath is missing any one of the members, it's no longer Black Sabbath. It's one of those wonderful bands where it really is a combination of the parts. It's not the Ozzy Osbourne show. It's not just some big riff with a singer. It really is four component parts."
Thus, at long last, the ninth Black Sabbath studio album is arriving!
November 5, 2011: Black Sabbath will be gathering at The Whiskey a Go-Go in LA on November 11th at 11:11 AM (where they played 41 years ago, their first performance in LA) to make a special announcement. Needless to say, excitement is running at fever pitch. Make no mistake. This is to announce the much-expected reunion, new album and new tour.
November 4, 2011: Here are some great pictures from the book-signing on Nov 2nd! Tony accepted the flyer I made about my book (a five page affair with pics, sample text, a list of artists and a business card).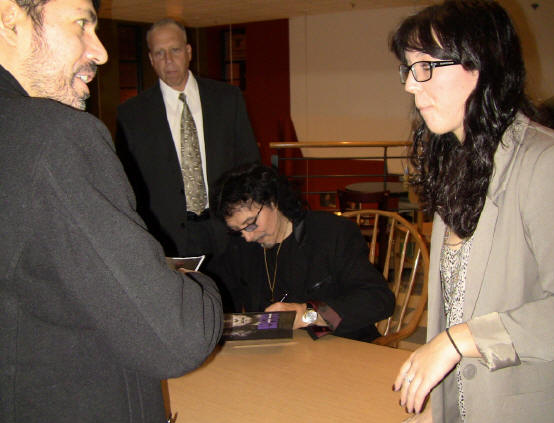 In this first picture, I'm speaking to Tony's publicist/assistant (?), just letting her know that the flyer I brought wasn't memorabilia for Tony to sign (which was prohibited). She was patient and listened to what I had to say.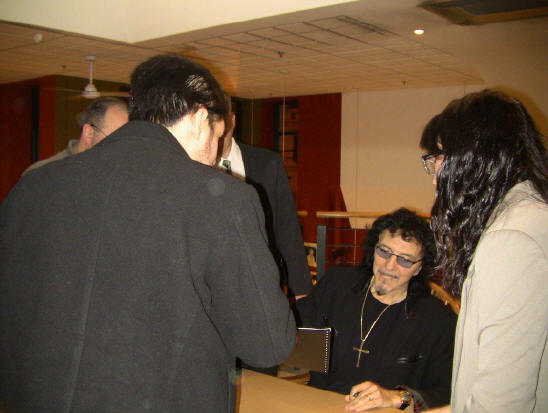 In the second picture, I'm physically handing the flyer to Tony, as he looks at it. I would be remiss if I didn't state that the flyer was beautifully printed by the wonderful Kenney family at ProPrinting in Lynbrook. The colors from the various paintings popped out, and the text was sharp and readable.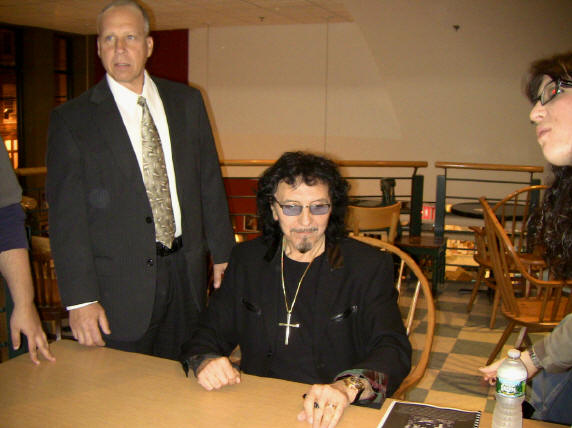 In the last picture, Tony's still looking at the flyer, while I tell him how I've been a fan since I was 11. Tony was exceedingly gracious, attentive and supportive. I can't speak highly enough of how great he and his people were, and how much fun the experience was (thanks in large part to my partner and photographer, Rich Terrone, who took these amazing pictures). Meeting Tony Iommi was an experience. There's a thousand things I'd have loved to talk to him about, but there was a lot of people on line waiting and it wouldn't be right to hold up the line. It's good to know that Tony is genuinely humble, courteous and appreciative of his fans. I urge every fan to get out there and say hello to him if he comes to your area. It's very much a once-in-a-lifetime experience. At the very least, pick up his book. I've only skimmed through it, and it's filled with information that doesn't appear anywhere else. I'm anxious to read it in full.
November 2, 2011: Tony Iommi's new book is out! I'm heading to The Book Revue in Huntington to pick up a copy and meet the man in the person! If anyone's local to Long Island, head on out before 7:00.
August 18, 2011: Progress and Reunion.
Despite the lack of updates, I'm happy to report that work proceeds apace on the book. I even have an assistant proofreader, whose amazing at catching things that I missed.
As regards the much discussed Black Sabbath reunion, there's a great article here that I think perfectly sums up the situation. In short, stay tuned. It looks like a reunion may come to pass after all.
July 20, 2011 Some delays on the book, specifically due to the newest member of my family, a seven-week old rescued kitten. Also, some good news: Geezer Butler has announced that he's working on a book of memoirs that he hopes to have out next year! With Iommi's biography due out later this year, that'll make three members of Black Sabbath with their own books out. Perhaps our favorite drummer won't be far to follow.
May 12, 2011: Just a quick update on the book. I've completed the halfway point of the third revision. It's been slow-going, as we had three deaths in the family in the span of nine months! The book also needed a lot of work, and is much better for it. After a brief respite, I'm looking forward to completing the second half. Also, an update on two news items: The complete Ozzy set (including Blizzard, Diary, DVD, book, cross, etc.) will only be available on his site. That, unfortunately means paying full retail price. It is tempting, though. Also, as regards Tony Iommi's upcoming autobiography, Iommi announced that it's not yet finished! So, a page count and release date are premature. Finally, on the issue of a reunion, Ozzy has stated that it's back and forth. If it's meant to be, it'll be might be said to paraphrase his thoughts on the subject. On a side note, I had a chance to see the film God Bless Ozzy Osbourne at the Tribeca Film Festival. It was a really good film with some interesting insight. There's probably not much that the hardcore Sabbath/Ozzy fan didn't already know, but it was presented well, balanced, and for the first time that I've ever seen, showed some pictures of Ozzy's first wife, Thelma. If the film gets a wide release or a direct-to-DVD one, it's worth checking out.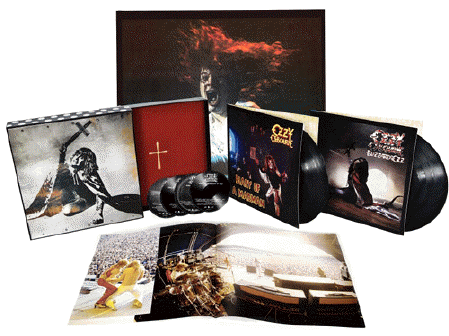 March 22, 2011: Mark the calendars for May 31, 2011 as Ozzy rolls out the 30th Anniversary editions of Blizzard of Ozz and Diary of a Madman, which will be sold individually and as a limited edition box set with a 100 page coffee table book, poster, gold-cross replica and 30 Years After the Blizzard DVD. Check out Ozzy's site for more info. This is a cool set, and there appears to be some previously unseen footage and music of Randy that's exclusive to this release. There is some confusion regarding what extras are going to be included. For example, while the great "You Looking for Me, Looking For You," is listed, there's no mention of "You Said it All." Similarly, other bonuses that had been previously mentioned are now not seen in the tracklist. Nevertheless, this does seem to be a jam-packed set. Hopefully, they'll straighten out this matter and let us know what's being done with the missing songs.
February 21, 2011: A lot of fans have shown concern over Geezer Butler's recent terse statement on his website that "that there will be definitely NO reunion of all four original members of Black Sabbath, whether to record an album or to tour."
My thoughts on this are that the wishes of the original band members must be respected. As fans, we're fortunate to have eight truly legendary albums to enjoy. While it would be unfortunate if a potential ninth was abandoned (especially in view of Iommi's excitement over his recent musical outpouring), as well as a farewell tour, each member should be 100% invested in the idea. We're not owed anything.
Additionally, we do well to recognize that people are people, and minds can change. To sum up, let's look at an earlier quote from Butler: "I've probably said at least three times that 'I'll never ever play with Ozzy again in my life.' And then, you know, time goes by, and we start talking again, and get together." (Wheels of Confusion: The Story of Black Sabbath, Steven Rosen; Castle Communications, 1996)
So, anything's possible. "Always in motion is the future." ~Yoda (The Empire Strikes Back)
February 10, 2011: Black Sabbath fans will definitely be interested in Ozzy's upcoming biopic, which looks intent on being an honest examination of Ozzy from his youth through the Sabbath years and his solo career. Though no release date is set (a distributor is being looked for), more details were revealed here. In addition, keep your eyes peeled for Tony Iommi's biography, Iron Man: My Life with Black Sabbath and Beyond, which is listed on Amazon.uk for release on October 13th.
January 9, 2011: Hope everyone had a happy and safe holiday season. I've added a "supplemental" section for things that are a bit too much for the book. The first of these is a short article on the oft-discussed origins of the title "Iron Man," which lists the various "iron" epithets that have existed through the ages. Click here to check it out.